Meet the Fleet!
Every fleet needs a Pete...
Dean trailers before the weekly wash...
2 More Dean Machines
A couple of Dean work horses...
Open Tandems for the lighter freight
Providing exceptional service in the Hamilton area for over 50 years.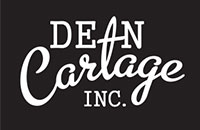 Our fleet of tractor trailers can now be seen hauling rush freight all over Ontario.
While we're primarily steel hauling specialists, Dean Ctg. Inc has branched out to haul all types of freight. We quite simply have the most experienced crew in the industry. Many of our drivers and brokers have been trucking for over 25 years.
Explore our site and discover why Dean Cartage Inc. has become a leader in the industry, and the "go to" carrier for some of the largest companies in Ontario.
Reasons to choose Dean Cartage Inc.
Because we operate 7 days a week, 24 hours a day, customers know a Dean truck will always be there quickly.
Our reliability is second to none, as is our safety record. The fleet is maintained to the highest standards. The fact that none of our Drivers have less than 10 years of steel hauling experience, is something few carriers can boast.
Dean Cartage Inc. will go anywhere in Ontario and back at a fair rate to meet your budget.
All size vehicles to transport any type of freight. Everything from pickups and vans to straight trucks and tractor trailers.
With our heavy weight permitted units, we can legally transport loads weighing up to 115,500 lbs.
We would be pleased to service your hauling needs whether it's a skid to North Bay or a 60,000 lb coil to the pier. Contact us today.
Dean Cartage Inc.
Phone: (905) 664-1818
Dispatch & Truck Yard:
341 Dewitt Rd,
Stoney Creek, ON
L8E 2T1
Get Directions »
Mailing Address:
6 Marlow Ave.
Grimsby, ON
L3M 1Y3